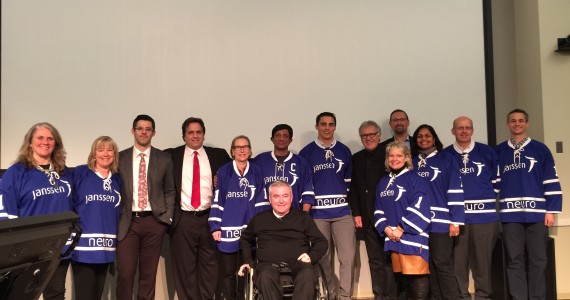 The 32nd Annual Johnson & Johnson International Hockey Tournament was held in Philadelphia, PA on April 16-18, 2015, after many successful years hosting this event in Canada.  The organizers wanted to raise even more awareness of concussions, traumatic brain injuries, and spinal cord injuries, whilst leading a strong fundraising effort for the American and Canadian Spinal Research Organizations (ASRO/CSRO) and StopConcussions.com. The 2015 tournament committee was led by Husseini K. Manji, MD, FRCPC, Global Head, Neuroscience, Janssen Research & Development, LLC, one of the Janssen Pharmaceutical Companies of Johnson & Johnson and Michael Johnson, Product Stewardship, Environment, Health, Safety and Sustainability, Johnson and Johnson.  The event raised over $200,000.
Something about this event felt special from the beginning. In the months leading up to the tournament, the organizers held three successful Town Hall meetings, where special guests spoke about spinal cord and head injuries in sports and the military.
The employees at the Johnson & Johnson Family of Companies helped this event to go above and beyond the initial goals by holding special fundraising events throughout the months leading up to the tournament.
Michael Johnson tells us about his experience:
ÔÇ£In 2015, I lead the tournament and bringing it to the US was a ton of work, but it was an incredible experience and I got to work with some great people. The tournament is a great opportunity in that employees get together to play a sport they love and we also raise money for a great cause.
We really believe in this tournament as it is in line with our Credo commitments and it is a great way for employees to get together from all over the world and compete with one another in a friendly atmosphereÔÇØ
The top fundraisers were given a larger than life reward ÔÇô a chance to lace up and skate with some of the greats in the Celebrity Charity Game. Kerry Goulet, Director of Stopconcussions.com, put together a star-studded roster featuring Keith Primeau, Bernie Nicholls, Dennis Maruk, Steve Vickers, Brian Boucher, Kevin Colley, and many more veterans of the professional and international hockey world.
Our teammates have already begun planning for 2016ÔÇÖs tournament, returning to Philadelphia, and hoping to be bigger and better once again. Thank you to Dr. Husseini Manji, thank you to Michael Johnson, and all of your teammates at Johnson & Johnson. We tap our sticks on the ice for you.