Welcome to Shoot for a Cure
Shoot for a Cure is a fundraising campaign of the Canadian Spinal Research Organization (CSRO), the American Spinal Research Organization (ASRO), and StopConcussions Foundation, integrating professional and amateur sports/sporting events, corporate sponsorship and community partnerships, which includes other non-profits and non-governmental organizations. We are committed to raise funds, increase awareness and assist in the prevention and cure of neurotrauma injuries. Shoot for a Cure is an international campaign uniting neurotrauma communities around a common cause. Our goal is to raise $10 million over the next 5 years.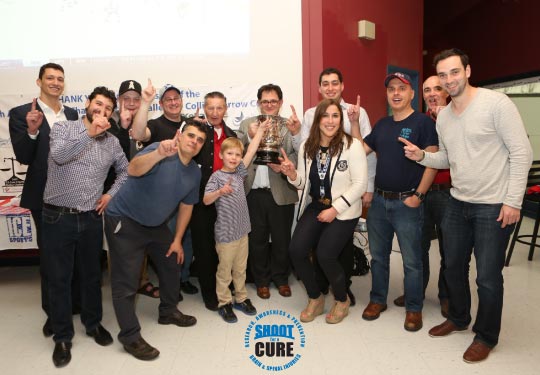 RESEARCH
Shoot For A Cure supports research that facilitates recovery and re-integration into the community through investments in neurorecovery projects, neuroprotection projects, standardization of treatment, early interventions that reduce secondary damage and improved access to treatment.
AWARENESS
Supported by our website and on-location seminars we are able to instill the principles of respect and safe play values in sport today to bring awareness to neurotrauma injuries .
PREVENTION
Through education and our comprehensive sport specific prevention platforms, we will change the mindset of the participants from the grassroots up.
Neurotrauma describes two complex conditions: aquired brain injury (ABI) and spinal cord injury (SCI). Aquired Brain Injury is defined as damage to the brain that occurs after birth. It can happen to anyone in an instant. ABI is a catastrophic injury that can result in a varitey of difficulties including: cognitive, physical, social and psychological. These difficulties can create challenges throughout the person's lifetime. ABI can be traumatic or non-traumatic. Concussion/mild TBI (mTBI) is the most common form of traumatic brain injury. While most people will recover from a concussion within a relatively short period of time, up to 20% of those injured can continue to experience significant symptoms beyond three months. Concussion can happen to anyone from the very young to the very old, regardless of age.
A spinal cord injury (SCI) is a traumatic injury to the spinal cord that leads to varying degrees of motor and/or sensory deficits and paralysis. It can happen to anyone – a teenager diving into a lake while on a summer holiday, a farmer working outside doing everyday chores or a mother involved in a car collision. Spinal cord injury can lead to permanent paralysis and the inability to walk. Neurotrauma has a severe human and economic impact. It affects individuals, families and also their communities, as a range of support and services are needed to assist the person who sustains a neurotrauma injury to live and participate in their community .
To reduce, treat and cure brain and spinal cord injury
The Shoot for a Cure campaign aims to raise awareness and fund research, prevention, and cure for those suffering from brain and spinal cord injury.