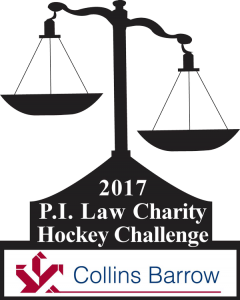 Shoot for a Cure and CSRO celebrates 11 years of this successful hockey tournament! Six teams took to the ice for a chance to win the Collins Barrow Cup at the 11th Annual P.I. Law Charity Hockey Challenge, Collins Barrow Cup. This event features Plaintiffs, Defendants, and even some honourable Judges from the personal injury law community. We were fortunate to have almost 100 participants skating for spinal cord injury research.
Held on Thursday, April 6th at Canlan Ice Sports Etobicoke, the event brought in $34,619.30 for our Shoot for a Cure Campaign. Congratulations to the Collins Barrow Canucks for beating out the LoFranco Corriero Red Wings during a high-intensity game that came down to the last minute & winning the gold!
Congratulations to the following teams:
 Gold: Collins Barrow Canucks
Silver: Lofranco Corriero Red Wings
Bronze: Zuber Devils
Honourable mentions to:
Hamilton Bulldogs
McKellar Sharks
DSF Mediations Flyers
On behalf of the Shoot for a Cure and CSRO team, we would like to thank all players and sponsors for participating and helping us put on another fantastic tournament!
We would like to thank Michael Henry and the team at Howie, Sacks & Henry LLP for their organizing efforts!
We look forward to seeing you all next year!
For more of the pictures from the event, visit our Facebook page albums.
@SFACCampaign